5th National Symposium on Agriculture 2022 (Virtual Symposium)
The Faculty of Agriculture, Eastern University, Sri Lanka welcomes you to the 5
th
National Symposium on Agriculture (5
th
NSA-2022) under the theme of "Ensuring Food Security Through Smart Agriculture" on the 9
th
March, 2022. The Virtual Symposium is designed with the objective of delivering the physical symposium experience via virtual mode by maximizing the opportunities to discuss achieving food security through multiple smart agriculture applications. The 5
th
NSA-2022 takes the privilege to invite researchers, agriculturists, policy makers, engineers, economists, budding young scientists, students and all other enthusiastic participants to exchange their experiences, novel ideas and research findings in all aspects at this national forum with the nationwide experts and to discuss their practical challenges encountered and solutions to be adopted to battle against uncertainties with technological adaptation.
Benefits of Virtual Platform
One-day symposium with virtual access to all technical sessions
Present and share your research work via the online platform Zoom
Attend to the other presentations and join the Q&A Session with audience at real time
Interact and receive feedback from other participants and experts
Evaluation of presentation by a panel of experts
Obtain symposium materials including proceedings via post/courier after symposium
Presentations will be available at NSA website
Digital link to abstract proceedings on NSA website
Symposium Tracks
5thNSA 2022 invites researchers to submit their original contributions on the following Tracks but not limited to submit your abstract for presentation
Agribusiness Management and Farm Extension
Agricultural Engineering Technologies
Climate Change and Disaster management
Crop Production and Crop Protection Technologies
Food Nutrition and Value Addition
Geospatial Technology for Agriculture
Information Technology in Agriculture
Livestock, Fisheries and Aquaculture
Precision Agricultural Technology
Soil, Water, Environment and Waste Management
Keynote Speaker
Keynote Address on "Ensuring Food Security Through Smart Agriculture"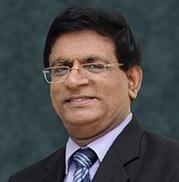 Ranjith Senaratne PhD (Vienna), PhD (Durham)
Chairman 
National Science Foundation,
47/5, Maitland Place,
Colombo 07
and
Former Professor and Chair,
Department of Crop Science, 
Faculty of Agriculture,
University of Ruhuna,
Mapalana, Kamburupitiya,
Sri Lanka.
Technical Sessions
Technical Schedule and & Zoom Links
Technical Schedule
Zoom Links
IMPORTANT DATES
| | |
| --- | --- |
| Calling for Extended Abstract | 30th September 2021 |
| Submission of Extended Abstract | 31st December 2021 14thJanuary 2022 |
| Notification of Acceptance | 20th January 2022 |
| Final Submission of Extended Abstract | 01st February 2022 |
| Registration Last Date | 10th February 2022 |
| Submission of Presentation | 15th February 2022 |
| Symposium Day | 9th March 2022 30th March 2022 |
Paper Submission
We would like to invite you to submit your research/review paper/s for 5
th
National Symposium on Agriculture (NSA-2022). The symposium language would be English. Authors are kindly advised to follow author's guidelines for the preparation and submission of Extended Abstract. Extended abstract could be submitted via e-mail (
nsa2022@esn.ac.lk
) with author declaration form.
Publications
Proceedings of Abstract
All the extended abstracts submitted to Virtual symposium on 5
th
NSA 2022 will be subjected to double blind peer review process and abstract of all the accepted papers will be published in the
Proceedings of Abstracts
and will be uploaded on the website.
Journal
Further, presented selected quality research/ review papers will be published FREE of charge in the reviewed online journal (
https://agrieast.sljol.info/
) of AGRIEAST in 2022. The publication committee will take necessary steps to direct those to the AGRIEAST Journal. However, the final decision of publication process will be solely depending on the Editorial board of the AGRIEAST.
Registration
Registration Fee
| | |
| --- | --- |
| Presenter/ Authors (Fees include symposium kit) | : Rs. 2,000.00 |
| Participants (Only proceedings) | : Rs. 1,000.00 |
Note: Symposium fee will not be refunded.
Registration Process
All presenters/participants should register for symposium.
Download registration form
[
doc
|
pdf
]
Duly completed registration form along with scanned copy of Bank Deposit Slip should be sent to
nsa2022@esn.ac.lk
Payment Details
Bursar, Eastern University, Sri Lanka.
Account No: 227100140000024
Bank: People Bank, Chenkalady, Sri Lanka.
Note: Please indicate NSA-2022 and your name on the fund transfer sheet which should be e-mailed to nsa2022@esn.ac.lk
Symposium Committee
Coordinator:Dr. (Mrs). T. Geretharan
Secretary: Mr. G. Hariharan
Committee Members